◄►◄►◄►◄►◄►◄►◄►◄►◄►◄►◄►◄►◄►◄►◄►◄►◄►◄►◄►◄►◄►◄►◄►◄►◄►◄►◄►◄►◄►◄►◄►◄►◄►◄►◄►◄►◄►◄►◄►◄►◄►◄►◄►◄►◄►◄►◄►◄►◄►◄►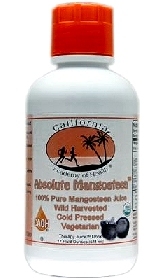 100% Pure, Unadulterated Mangosteen Juice - 100% Pure, Unadulterated Mangosteen Juice
100% Certified Organic - CAOH® has been expertly producing mangosteen juice since 2003.
A one ounce serving taken one to three times daily provides the natural health benefits of mangosteen fruit, including natural antioxidants, vitamins and natural energizers.
100% Pure, Unadulterated Mangosteen Juice (Whole Fruit Garcinia Mangostana L.)
Our Absolute MangosteenTM is 100% Certified Organic,
"Flash Pasteurized" and independent quality testing (before and
after bottling)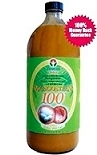 .

This product is 100% pure, and made the traditional way, just like it was consumed
over 1,000 years ago. Genesis Today's MANGOSTEEN 100 is equal to three to
nine bottles (depending upon the brand) of competitive products. We guarantee no
brand on the market can match our Xanthone content ounce for ounce (as of
June 21, 2006). MANGOSTEEN 100 is made with only 100% wild grown and wild
harvested Garcinia Mangostana (binomial name Garcina mangostana L.).
◄►◄►◄►◄►◄►◄►◄►◄►◄►◄►◄►◄►◄►◄►◄►◄►◄►◄►◄►◄►◄►◄►◄►◄►◄►◄►◄►◄►◄►◄►◄►◄►◄►◄►◄►◄►◄►◄►◄►◄►◄►◄►◄►◄►◄►◄►◄►◄►◄►◄►
NOW, just for an interesting contrast, put the following terms into the Search box:

60 102 2a) noni
68 219 2b) Morinda citrifolia (scientific name for Noni)

28 51 3a) acai (main ingredient in MonaVie)
3 16 3b) Euterpe Oleracea (scientific name for acai).
49 66 4a) goji (main ingredient in Goji Juice)
55 106 4b) Lycium Barbarum (scientific name for goji)


-----------------------------------------------
Click Here to LISTEN to Dr. J. Frederic Templeman, discuss the research regarding Mangosteen, Xanthones, and CANCER.
-----------------------------------------------
Visit MangosteenMD.com -- Dr. Templeman, author of "Mangosteen, The X Factor", has designed this site to support product-orientated distributors, customers, and health professionals.
Click Here for "FIRST LINE THERAPY"
Excerpted from the DVD Presentation: "Mangosteen, Xanthones & the Human Body with Dr. J. Frederic Templeman" which is available for purchase at www.MangosteenTools.com
-----------------------------------------------

MANGOSTEEN RESEARCH INTRODUCTION
The Mangosteen, if scientific research is any indication, is perhaps the most important fruit on earth.
The Mangsoteen contains several classes of phytonutrient antioxidants and is the only place in nature to contain a broad spectrum of a new class of phytonutrients called Xanthones. The potent effects on human health of the Mangosteen have been observed for centuries in Southeast Asia, and have been scientifically documented. Here is a summary of the benefits of the Mangosteen:
Mangosteen:
"I am now convinced that mangosteen will, without a doubt, be the most medically successful food supplement ever."

~ J. Frederic Templeman, M.D.
"Mangosteen The X-Factor" (5th ED)
Dr. Templeman is a practicing primary care physician, board-certified in both the US and Canada, who has never before endorsed a food supplement. But after testing a Mangosteen derived Juice on his patients, Dr. Templeman went on to publish MANGOSTEEN, THE X FACTOR. You may order his booklet from his website: www.MangosteenMD.com
His booklet summarized both the observations of the native healers and peoples of Southeast Asia, and the scientific research that now documents the potent effects of this amazing fruit.
As Dr. Templeman states in the beginning of his book, what is impressive about these studies is that all the scientific studies on Mangosteen are independent. The studies have no commercial bias. In addition, while potent effects are noted with profound implications for human health, no safety or toxicity issues have been noted.

Disclaimer: No medical claim is made on any particular product. Dietary supplements are not a substitute for treatment by your licensed medical professional.

Mangosteen -- What is it?
The Mangosteen is tangerine-sized and is deep purple in color on the outside, with a bright white pulp in the inside. Prized because of its excellent flavor, in Asia it is called the "Queen of Fruits," and, in the French Caribbean, the "Food of the Gods."
Used for centuries throughout the lands in which it grows, recent scientific studies have revealed an incredible scope of potent human health benefits leading many to believe that Mangosteen will be the most important fruit on earth.
Mangosteen: The X Factor
The following is a summary of the X Factor by Dr. Templeman
Immune System
Protects against pathogens, sepsis, influenza, pneumonia, tuberculosis, AIDS, and diverticulosis. Anti-bacterial, anti-viral, anti-fungal. Laboratory demonstrated to interfere with HIV protease, which keeps the virus immature and incapable of infections. Thai study demonstrated effectiveness against staphylococcus aureus bacteria. Polysaccharides in the rind stimulate phagocytic immune cells (PMNs and monocytes). Effective against salmonella, typhus and tuberculosis bacteria.
Asian healers have used Mangosteen for centuries for syphilis, malaria, and amebic dysentery. In South America, it is used for intestinal worm infestations.
Anti-Tumor Properties
Catechins in Mangosteen: Prevent formation of carcinogenic compounds by blocking co-carcinogens. Turn up body's natural detoxification defenses. Suppress cancer promotion or growth.

Gastro-Intestinal System
Dysentery, GI pathogens, diverticulosis, histamine and serotonin blocking capacity. Reduces excess stomach acid. Anti-allergic effect. Anti-stomach ulcer.
Respiratory System
Mangosteen study in September 2002 reported that it is an anti-inflammatory and anti-allergenic agent. Relevant for asthma. Xanthoses modulate IGE, antibody class involved in allergic reactions. Mangosteen can accomplish what we now use several drugs to do. Ideal product to use daily to protect our respiratory systems integrity
The Central Nervous System
Dr. Nakahatas research with glial cells (central nervous systems cells) suggest that Mangosteen could produce a therapeutic effect in both treatment and prevention of Parkinsons and Alzheimers disease.
Skin
Mangosteen used for centuries to treat eczema, dermatitis, wounds, ringworm, acne, impetigo, and growth disorders of dermis (psoriasis or seborrhea) skin cancer and sun damage.
Folk Medicine Remedies (India, China, Malaysia, Philippines, etc.)
Antimicrobial/anti-inflammatory powers. Treating eczematous and hyperkeratotic skin conditions. In Caribbean, tonic for fatigue and malaise. Controlling fever.

Systemic Effects
Helps with fatigue, low energy. Used on persons with chronic fatigue and illness. From Dr. James Duke, perhaps Americas foremost ethnobotanist. Retired in 1995. He worked for the USDA and University of Maryland. Prolific writer and created a phytochemical and ethnobotanical database.
Mangosteen is listed with 138 separate benefits. The following are the major benefits:

Anti-fatigue

Anti-tumor and cancer prevention

Anti-aging

Anti-oxidant

Anti-lipidemic -- blood pressure lowering

Anti-inflammatory -- prevents inflammation

Anti-ulcer -- prevents both stomach, mouth, and bowel ulcers

Anti-obesity -- helps with weight loss

Anti-atherosclerotic -- prevents hardening of the arteries

Anti-viral -- prevents or modulates fungal infections

Anti-depressant

Anti-Alzheimers -- helps prevent dementia

Anti-arthritic -- prevention of arthritis

Anti-osteoporosis -- helps prevent the loss of bone mass

Anti-periodontic -- reduces/prevents inflammation and infection of gums

Anti-seborrhic -- prevents seborrhea (skin disease that causes dandruff)

Anti-calcultic -- prevents kidney stones

Anti-pyretic -- fever lowering

Anti-Parkinson

Anti-diarrhea

Anti-neuralgic -- reduces nerve pain (i.e. diabetic neuropathy of the feet, hands)

Anti-vertigo -- prevents dizziness

Anti-glaucomic -- prevents glaucoma

Anti-cataract -- prevents cataracts

Hypotensive -- blood pressure lowering

Immunostimulant -- multiple categories cited

Cardioprotective -- protects the heart

Analgesic prevents pain
.
----------------------------
NOTE: This web site is for educational purposes only and does not endorse or promote any commercial product and/or company. It is merely a web site sharing resources and information about mangosteen fruit and Xanthones. Mangosteen juice is not a cure, miracle or drug ... it's a fruit juice. Nothing on this site is meant to guarantee or imply that you will receive any benefit from its consumption. If you have a health challenge, be sure to always discuss it with a trained medical practitioner.

Webmaster, Laurie Kristensen
.
ALSO: This is an INFORMATION-ONLY resource for all to share and, MOST IMPORTANTLY, this site does not link back to ANY particular individual for prospecting or sales, including Laurie Kristensen. Also, Laurie Kristensen does NOT track visitors to this site in ANY way -- nor would she EVER initiate contact with them for ANY reason, even if she could. There are also NO links to any of Laurie Kristensen's web sites even if not related to mangosteen.
.
Laurie Kristensen provids a way to donate contributions in support of this site because literally hundreds of her personal hours and a great deal of her personal energy have gone into creating, updating, and maintaining this site for all to use SAFELY as an INFORMATION resource ONLY.
Please help support this website! (Totally voluntary - HIGHLY APPRECIATED!)

You can use the PayPal donation payment button (below) EVEN IF you do not have a PayPal account
of your own! (And, you will NOT be asked to open a PayPal account in the process, either.)

ALSO NOTE: This will be a 1-TIME-ONLY donation and N-O-T a monthly recurring charge or subscription.
Verified Member / Business Account: PayPal.com

Credit Cards Accepted Through PayPal

OR, to send a contribution by check, email me for my postal address at:
lk_by_heart @ yahoo.com *

If you do not receive my reply, you can also email me at: LuckyLuckyLK @ gmail.com *

(* Remove the spaces on each side of @ )